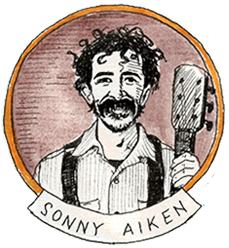 Sonny Aiken is a cowboy and a clown. Just as entertaining off-stage as on, you'll be hard-pressed to find a better yodeller in all of Ottawa. Having completed a world tour with Cirque Eloize in the cowboy-musical 'Saloon', Aiken is back in Ottawa reestablishing roots. Nearly always performing as one half of a duo, Aiken has released music with The Noisy Locomotive, Aiken & Beggs, The Aiken Brothers, and most recently, he released his seminal solo album, Lost, Lonesome Cowboy in 2020. After more than a decade of touring and performing across Canada, Aiken's latest venture is as one half of C.A. and Sonny.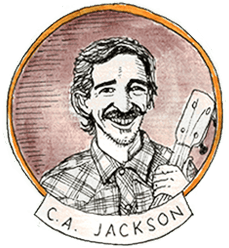 Hailing from New Brunswick, C.A. Jackson has now firmly planted his feet in the Ottawa area. Although he has spent time performing in bands and other ensembles, Jackson has spent countless hours honing his craft. After a fateful year-long pilgrimage to Charlottetown where he spent his secluded days, nourished by his guitar alone, he has ventured back to society to accompany Aiken with his resolute harmonies and relentless fingerpicking.
"This song is about medieval weaponry and how to use it."